Posted on October 20, 2022
The 23rd Calgary International Film Festival, presented by connectFirst Credit Union, was an action-packed, 11-day, cinematic celebration and we never could have done it without YOU!
The sheer amount of extraordinary moments made it hard to choose, but we've finally decided and can now present, in no particular order, the top ten moments of #CIFF2022!

high school SCREENING fT. lIVE MusIC FROM Tegan and Sara
On Day 8 of CIFF 2022, fans of the internationally renowned pop duo Tegan and Sara flocked to Eau Claire market for a sold-out screening of their new Amazon Freeve series HIGH SCHOOL. The show, directed by Clea DuVall, is an adaptation of their eponymous New York Times Best-Selling memoir which details their experiences growing up in Calgary in the 90s while experimenting with drugs and coming to terms with their queer identity.
Moviegoers delighted in Tegan and Sara's hilarious anecdotes as they told CBC's Chris Dela Torre all about the process of writing their celebrated memoir and creating the show right here in Calgary during their pre-screening Q&A. After enjoying an early look at the first 3 episodes of this excellent new series, audiences were treated to a stunning acoustic performance of hits like CLOSER and WHERE DOES THE GOOD GO, thanking the duo with an ardent standing ovation.

WATCH THE TRAILER HERE [Full Series Available on Prime Video October 28]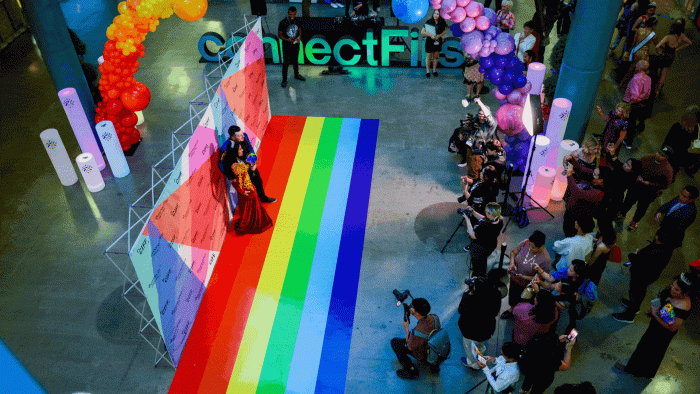 CFCU RAINBOW CARPET
Category is: Rainbow Slay! In honour of the extraordinary Albert Spirit Documentary FRANCHESKA: PRAIRIE QUEEN, CFCU helped us transform the centre court of Eau Claire Market into a rainbow eleganza, extravaganza. This CIFF 2022 selection follows the journey of a Filipino care worker, Francis (Kiko) Yutrago, as he tries to achieve drag star superstardom while financially supporting his family back in the Philippines.
The air sparkled with the glow of a dozen drag queens as performers from all over Alberta came down to support Francheska at the World Premiere of her film. Director Laura O'Grady was also in attendance and gave a riveting post-screening Q&A to a teary-eyed but enthusiastic audience.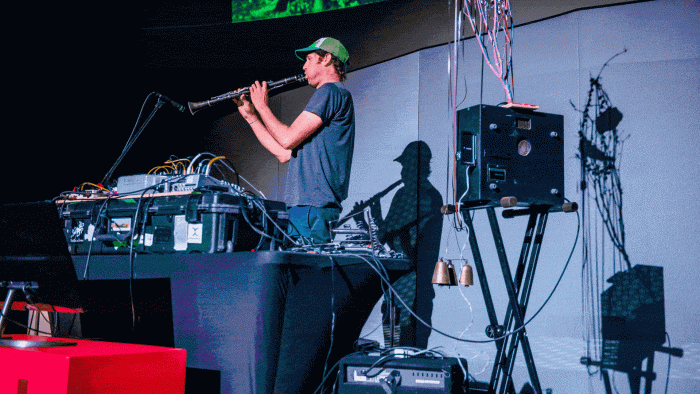 NOSFERATU live score BY CHAD VANGAALEN
To celebrate the 100th Anniversary of F.W. Murnau's horror classic NOSFERATU, CIFF joined forces once again with Calgary's own Chad VanGaalen (performing as Black Mold) to bring his unique sound to the Dome at Contemporary Calgary, performing a live score to one of the most influential films from the silent era. With two back-to-back sold-out performances, Chad took the roof off Calgary's coolest art gallery, leaving audiences mesmerized by his psychedelic sea of sights and sounds.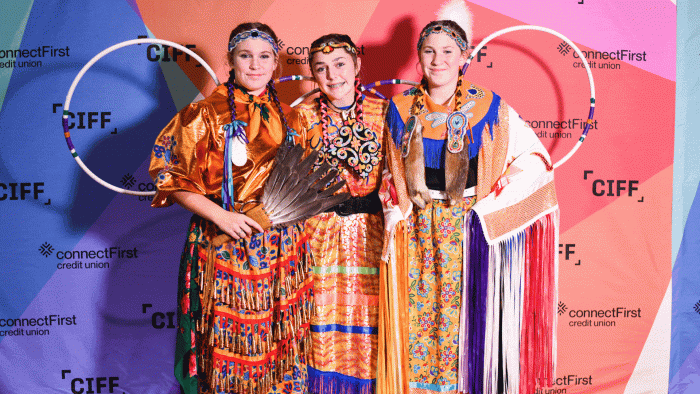 THE LABELLE SISTERS PERFORMANCE
On Day 9, CIFF honoured the National Day for Truth and Reconciliation with a selection of films from the indigenous perspective. Film fans enjoyed special screenings of four feature films from Indigenous creators: BONES OF CROWS, DARK NATURE, EVER DEADLY and BUFFY SAINTE MARIE: CARRY IT ON. Those attending DARK NATURE and BONES OF CROWS were treated to a beautiful performance by The LaBelle Sisters who performed a compilation of fancy, jingle and hoop dance. A huge thank you goes out to the LaBelle Sisters for elevating our screenings with their performances and helping CIFF honour the history and culture of indigenous people.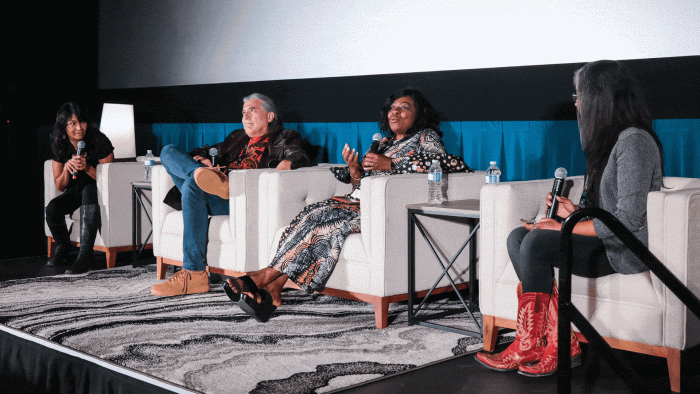 Industry Week
Curated with an eye to the future, CIFF set the scene for industry conversations that were not only informative but inspiring. Despite being inaugurated just last year, CIFF Industry Week has become an event that creators and industry professionals look forward to and is quickly growing into one of the most vital gatherings of screen media creators in Western Canada. Watching attendees develop their professional knowledge through our insightful panels and expand their connections at our luncheons and happy hours made it all worthwhile. It was a joy to create a space for creatives and professionals to come together and share their passion for film.
Whether you missed it live or just want to go back for a second look at the wisdom shared by Alberta's industry professionals, you can now stream all of our panels!
CIFF VIDEO pALACE
This throwback display of our stellar 2022 lineup added the perfect touch of whimsy to our festivalscape! The palace featured all of our titles splayed across cassette cases, carefully arranged on stands mimicking an old-timey video store. CIFF Fans loved perusing the palace to choose their next cinematic adventure and found that it made for a charmingly retro photo-op.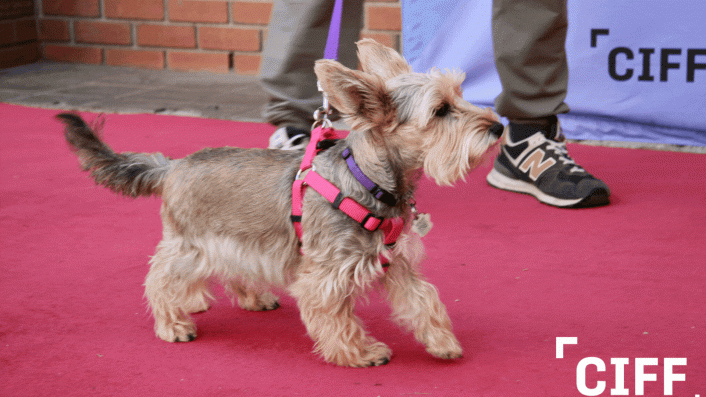 THE RED CAR'PET'
CIFF Fans let the dogs (and cats) out for the year's most adorable red carpet! On day 10, film's furriest fans got all gussied up and headed to Globe Cinema to strike a pose on our annual Red Car'Pet'! Those who attended this carpet were brought to happy tears by the overwhelming cuteness of kitty costume changes, bug-eyed chihuahuas, 'smizing' cats the size of dogs and elderly puppies doing their best.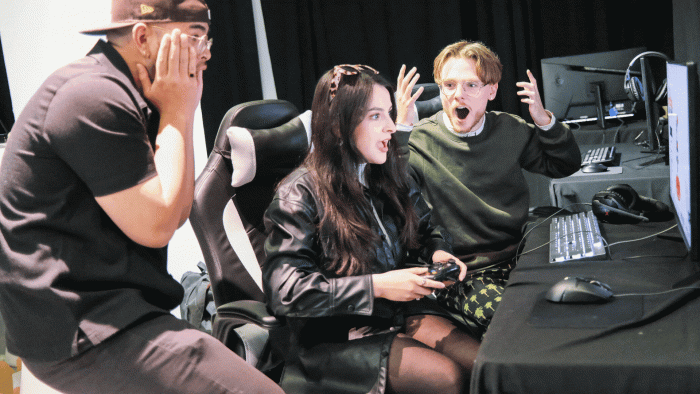 INTERACTIVE DIGITAL MEDIA HUB
CIFF followed up on last year's CIFF Arcade to give audiences a chance to get their game on at the CIFF Interactive Digital Media Hub! Our impressive lineup of Games and Virtual Reality pieces brought action and adventure to Eau Claire Market. Players traversed space in the shoes of a stranded astronaut, ripped opponents limb from limb in the body of a gladiator and even came of age as a gigantic, kind-hearted tentacled beast.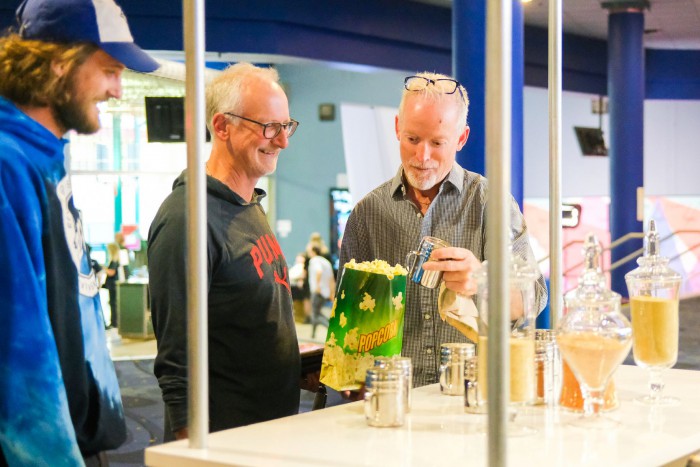 CFCU POPCORN SEASONING STATION
Sometimes the devil really is in the details. At our beloved fall festival, every element is working together to fulfill our mission of providing unforgettable cinematic experiences. From the get-go, moviegoers got a chance to experience the finer things by elevating their ordinary theatre popcorn with our range of gourmet seasonings.
PARK PRODUCTIONS INSTALLATION
Transforming Eau Claire Mall from a beloved Calgary relic to an exuberant movie haven for Alberta's biggest festival is no easy feat. PARK Productions did that and more this year with their vibrant wayfinding decals and glowing balloon arches, communicating to both fans and passersby that CIFF 2022 was bringing you movies and so much more!
If these moments have given you serious FOMO, you can come and make more memories at CIFF 2023 which will take place from September 21 to October 1.
A massive thank you to everyone who made this year's festival so special! We hope to see you all again next year!
Back to blog listing