Posted on October 11, 2021
The 22nd Calgary International Film Festival, presented by ATB, was an action-packed, 11-day, cinematic celebration and we never could have done it without YOU!
The sheer amount of extraordinary moments made it hard to choose, but we've finally decided and can now present, The Top Ten Moments of #CIFF2021!

TheAscent
On Day 3 of CIFF 2021, Calgarians watched in awe as DAVID, North America's largest marionette, assisted by a team of puppeteers, climbed 39 floors of Devon Tower outside Eau Claire Market. CIFF co-imagined this groundbreaking collaboration with Beakerhead to help uplift our community. We were thrilled to watch all our hard work pay off as audiences danced, played and learned together!
If you missed it, we've created a featurette recapping the whole evening, complete with jaw-dropping drone shots and exlcusive behind the scenes action!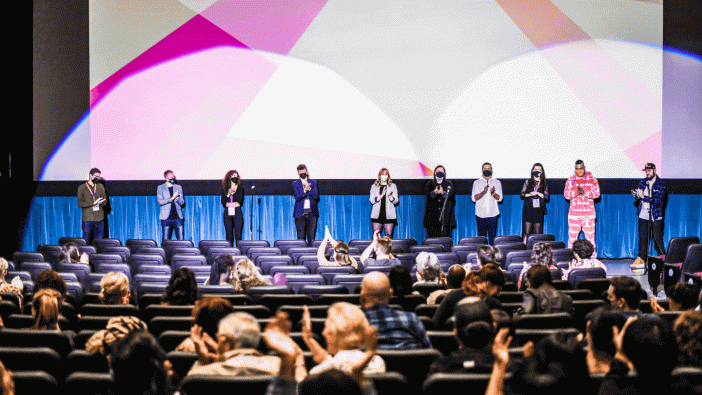 Alberta Shorts SCREENINGS
Day 4 wrapped up the CIFF 2021 opening weekend with a bang! It was a celebration of Alberta Talent at Eau Claire with our Alberta Spirit Narrative and Documentary Shorts screenings. The filmmakers behind some of Alberta's proudest productions brought an energy and enthusiasm into the theatre that will go down in CIFF history! Not to mention their glamorous appearances on the red carpet. The screenings were enjoyed by all and we were proud to display such incredible homegrown talent at our festival.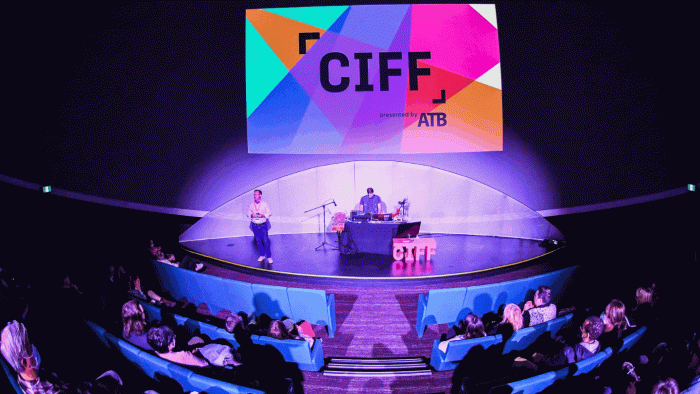 THE KID live score BY CHAD VANGAALEN
To celebrate the 100th Anniversary of Charlie Chaplin's THE KID, CIFF partnered with Calgary's own Chad VanGaalen (performing as Black Mold) to breathe new life into this silent classic with a live score performed in an intimate setting at Contemporary Calgary. A wonderful and immersive event was made even better by taking place on our first day at Contemporary Calgary, inside their incredible dome theatre. Audiences were completely taken in by VanGaalen's performance, which turned this already great film into an unrivaled experience of cinema and sound!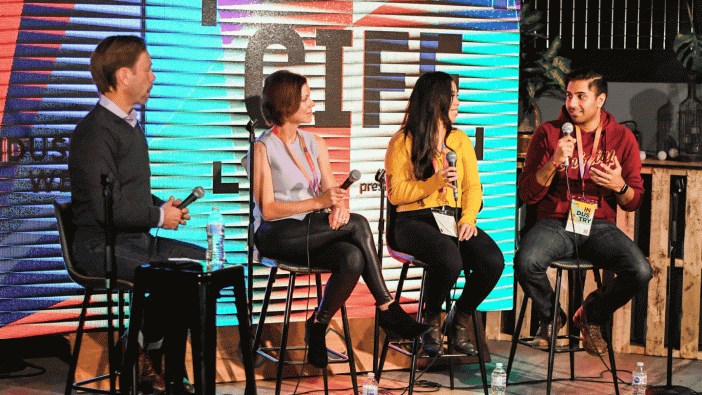 Industry Week at BrÜch BAr
Our inaugural Industry Week was a total success! Connections were made, knowledge was expanded and inspirational fuel was found, making it clear that there is a place for everyone in this industry, in front of and behind the camera. It was an honour for CIFF to bring together passionate professionals across a wide range of different backgrounds and expertise to celebrate their role in growing an industry that brings joy to billions of people. The week featured Alberta's first-ever State of the Industry Address, conversations with visionary filmmakers, a Master Class with the GHOSTBUSTERS: AFTERLIFE editors Dana Glauberman and Nate Orloff, and more!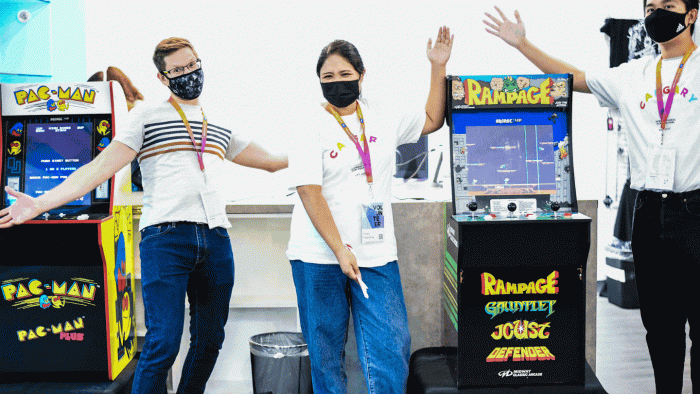 CIFF INTERMISSION ARCADE - SPONSORED BY RAW FURY
Alongside Raw Fury and Vancouver Film School, CIFF gave audiences the chance to get their game on at the CIFF Intermission Arcade! Raw Fury, a boutique indie game publisher, brought all the action and adventure to Eau Claire with their impressive game lineup! It was great to see audiences engage with our indie game expert and discover fantastic new indie games such as DANDARA: Trials of Fear, LONGEST ROAD ON EARTH, NORCO and SABLE. We were also thrilled to feature classics such as Rampage and Pac-Man, courtesy of our friends at Greta Bar!
If you missed it, you can find more info about the featured games on Raw Fury's website!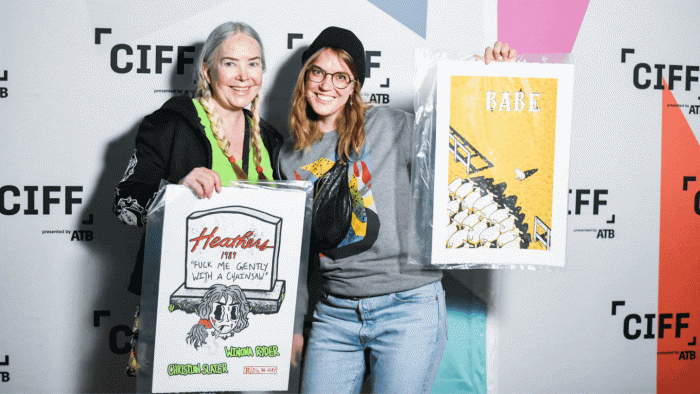 CIFF 2021 Poster Show
CIFF was delighted to support Alberta artists once again with our annual Poster Show! The gallery featured outstanding works of art by Alberta-based graphic designers, artists and illustrators who creatively re-imagined movie posters for ten iconic films. Each original poster was beautifully silkscreened in 15" x 22" size, then professionally framed in perfectly complementing frames. Audiences got the chance to bid on these prints during the festival and after an all-out bidding war, ten lucky winners took these stunning prints home!
You're not out of time to grab one of these for yourself, the bidding may have ended but the sale continues over on our website. They are sure to go fast so don't forget to pick one up before they're gone!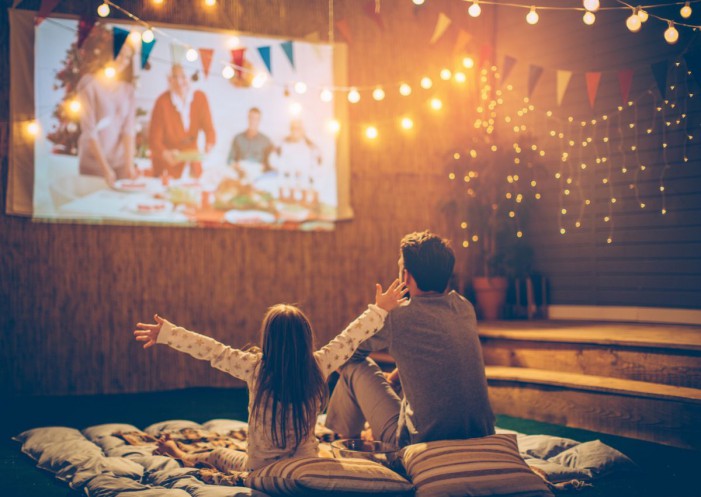 LET'S GET DIGITAL
CIFF fans got seriously digital on day six! Our streaming-only day went swimmingly as film lovers across the prairies settled in for the best movie night of the year. For film fans that choose to enjoy CIFF online, we offered 75+ films and shorts that brought the best of the fest right to their door. Some fans even took their viewing experience to the next level with CIFF cocktails, popcorn recipes and hot tips from our blog.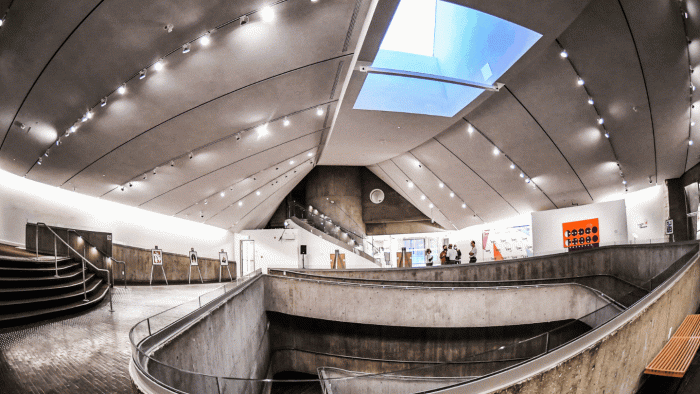 CIFF'S First time at Contemporary Calgary
The 2021 fest marked our first year at our newest venue, Contemporary Calgary! One of the city's coolest art galleries and most beautiful buildings, Contemporary Calgary provided a unique atmosphere for both art and films. This totally unique venue served as the perfect back drop to some of the festival's best moments, including the SOLD OUT screening of Charlie Chaplin's THE KID, featuring a live score by Chad Vangaalen, as well as the fabulous red carpets and subsequent premiers of two of Alberta's best shows, JANN and TRIBAL!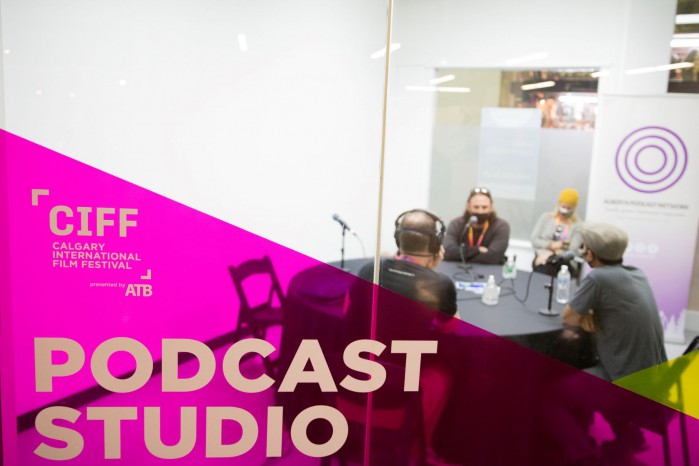 CIFF'S PODCAST STUDIO
In partnership with YYC Media Lab, CIFF invited a variety of talented local podcasters that played a big part in bringing the festival's stories to life! Our guest podcasters did a fantastic job as they set up our podcasting booth at Eau Claire Market to have in-depth conversations with filmmakers. They dissected all kinds of topics related to the film festival, the film industry and the stories being told through film. These episodes make for a riveting listen!
Watch this space for links to the Live From CIFF episodes of our featured podcasts, coming Friday, October 12

Interactive Video Wall
It was a strong start to the festival as CIFF and Keep Alberta Rolling teamed up with BEAMA Visuals to give audiences an awe-inspiring glimpse into the future of filmmaking. Using cutting-edge LED video wall technology, our interactive video wall transported movie-goers into another world using the power of Virtual Production. Participants got the chance to move through a cyberpunk setting in real-time without having to take a step out of Eau Claire Market. What an incredible ride it was to experience the future of filmmaking right at CIFF 2021.
If these moments have given you serious FOMO, you can come and make more memories at CIFF 2022 which will take place from September 22 to October 2.
A massive thank you to everyone who made this year's festival so special! We hope to see you all again next year!
Back to blog listing