Russia's submission to the 92nd Academy Awards, BEANPOLE is a remarkable look at two young women's attempts to rebuild their lives in the devastating aftermath of WWII in 1945 Leningrad.

Iya, nicknamed "Beanpole" for her tall thin body, works as a nurse in a hospital that is packed with traumatized soldiers. The environment is further challenging for Iya who suffers from PTSD-related seizures that leave her unconscious. After a shocking tragedy, Iya gets some relief with the return of the energetic Masha whom she adores after they bonded during the war when they fought together. The two women serve as an anchor for each other as they navigate a city that is still reeling from the devastating war.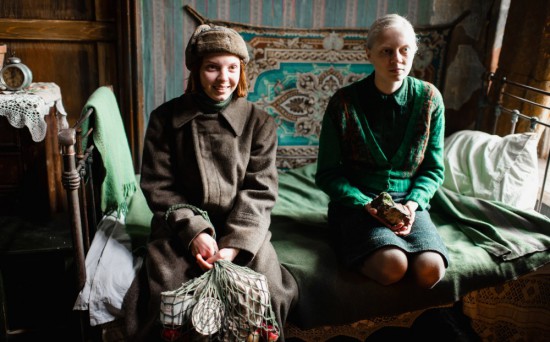 Inspired by Svetlana Alexievich's (2015 Nobel Prize Winner in Literature) "The Unwomanly Face of War", BEANPOLE sheds a light on the rarely scene topic of the role that women played in the war and the challenges they faced adjusting to post-war life. The exceptional BEANPOLE is the young Kantemir Balagov's (he is only 28) second feature after his stellar debut CLOSENESS (CIFF 2017). Elevated by a lush colour palette, striking visuals and production design, BEANPOLE deservedly won the Un Certain Regard Best Director award at Cannes and establishes Balagov as one of the best directors working in World Cinema today.
Rated 18A for sexual violence, sexual content, and mature subject matter.
----------
This film is part of CIFF's new year-round series, Global Perspectives - a brand new Contemporary World Cinema series that navigates the corners of the world bringing compelling stories and experiences for Calgarians to enjoy. This collection of exciting worldly films will make their Calgary debuts at Globe Cinema on the second Wednesday of each month. Tickets are now on sale for March's Global Perspectives pick, THE BURNT ORANGE HERESY, screening March 11 at Globe Cinema.
Awards

Cannes Film Festival - FIPRESCI Prize
Cannes Film Festival - Un Certain Regard - Best Director
Palm Springs International Film Festival - FIPRESCI Prize, Best International Feature


Festivals

Cannes Film Festival 2019
Telluride Film Festival 2019
Toronto International Film Festival 2019
New York Film Festival 2019
Palm Springs International Film Festival 2020

Director

Kantemir Balagov

Producer

Alexander Rodnyansky

Screenwriter

Kantemir Balagov, Alexander Terekhov

Cinematographer

Ksenia Sereda

Editor

Igor Litoninskiy

Music

Evgueni Galperine

Cast

Viktoria Miroshnichenko, Vasilisa Perelygina, Andrey Bykov, Igor Shirokov