A panel of outstanding local BIPOC animators discuss their careers and experiences as BIPOC artists in the industry and drop valuable tips that could help you get your start!
NOTE: AFTER FOLLOWING THE LINK, USERS MUST LOG INTO AN EVENTIVE ACCOUNT IN ORDER TO VIEW THE PANEL.
Participants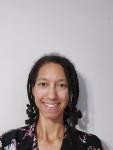 Barbara Peters
Barbara Peters is an Alaskan born story artist who graduated in 2020 from AUArts in Calgary, AB. She studied character design, storyboarding and animation in university and continues to self-study after graduation.
Barbara has worked with MAUD Collective as an animator for an augmented reality mural exhibit and started working on a short film.
Having been born in a secluded area Barbara did not have many opportunities to connect with the african american side of her identity and is currently exploring that part of her heritage through art and visual storytelling.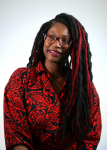 Ebony R. Gooden
SURVIVANCE Collective
Ebony R. Gooden is a freelance artist, digital media artist and advocate based in Calgary, Alberta. She also owns a Greek restaurant, Mykonos Street Grill. Originally from the US, she earned her BA in digital communication and visual/multimedia arts from Gallaudet University. She is active in the Calgary arts community, consulting on issues of accessibility, diversity, equity and inclusion for visible minority artists who are Deaf or hard of hearing.
Ebony's activism during provincial Black Lives Matter rallies raised the crucial issue of insufficient Black interpreters in Alberta, and across Canada. Her work highlighted the impact of working with interpreters who do not reflect the Black Deaf community and are unable to use Black ASL (BASL).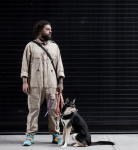 Tank Standing Buffalo
Quickdraw Animation
Tank makes autobiographical cartoons as a way to time travel to his younger self and tell him "hang in there buddy… we get to work with some of your favorite actors in the future".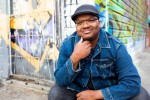 Tarik Robinson
CBC/CBC Calgary
Tarik Robinson (aka Teekay) is best known as the emcee of longtime Calgary hip hop duo Dragon Fli Empire. He was born in Halifax, Nova Scotia while his Jamaican parents attended Dalhousie University. His family moved to Calgary before his first birthday, and he was raised in the Stampede City. He grew up absorbing the sounds of R&B, soul, reggae and gospel that his mother would play in the house. In the '90s while in elementary school, he started getting into hip hop and was fascinated by it, especially thought-provoking acts like A Tribe Called Quest, De La Soul and The Roots. Eventually, he started creating hip hop beats himself on a Yamaha keyboard and started recording unique, introspective and conscious rhymes over them while in high school. Encouraged by positive feedback and constructive criticism, he continued to hone his craft. After catching the attention of fellow William Aberhart High School alumnus DJ Cosm, the two started collaborating, eventually forming as the Dragon Fli Empire (DFE) crew in 2002. They immediately started attracting wider attention in the Canadian independent music scene through their popular song "Mount Pleasant".
With DFE, Robinson has toured across Canada, the United States, Germany, France, Switzerland, Norway and Denmark and shared the stage with many musical icons, as well as playing festivals like the Calgary Folk Music Festival, Edmonton's KaleidoFest and The Works Festival, Yellowknife's Folk on the Rocks Festival, Shambhala, Warped Tour, Rock the Bells and many more. The duo even created the theme music for CBC Radio One's the Calgary Eyeopener, adapting their Calgary anthem "CGY" for the radio program. Robinson also releases music as a solo artist, including the 2019 instrumental album "Unión Latinoamericana", which he performed live at the 2021 Calgary Folk Music Festival 'Block Heater' showcase.
Robinson attended Mount Royal University in Calgary, and graduated with a Journalism degree in 2004. He has written for several publications on the hip hop scene, and has interviewed artists like Del the Funky Homosapien and the late Gift of Gab from Blackalicious. He has also worked extensively in Information Technology which afforded him the opportunity to travel to Chile and India. He also provides voiceover talent for various advertising campaigns, and was even involved in the 2006 Alberta playRITES festival in Calgary as part of the collaborative theatre production "Diplomatic Immunities".