JOIN THE HOTTEST CLUB IN TOWN!
Founded in 2000, CIFF is a registered non-profit dedicated to enriching Calgary's cultural landscape through film. From shining a spotlight on Alberta's film community to bringing in under-the-radar foreign titles, CIFF brings diverse perspectives, people, culture, and ideas to our audience, enriching our worldview, entertaining us all, and connecting our community through compelling on-screen content - at the cinema or from home.
Now more than ever before, CIFF needs your support! And, as a thank you, we're ready to deliver on the benefits and make this CIFF's most fun year ever. Purchase your annual membership today and be part of ClubCIFF, a special cohort of CIFF's Buddies, Besties and BFFs!
BENEFITS
Buddy
Level 1: $99*
Bestie
Level 2: $249*

BFF
Level 3: $499*
Complimentary General Admission Festival Tickets
2 TICKETS
4 TICKETS
8 TICKETS
Discount on Regular Price Festival Ticket Bundles and Individual Tickets for regular screenings (does not include specially priced events)
15%
20%
25%
Merchandise Discount
10%
15%
20%
Exclusive Membership Merch Item
✓
✓
✓
48-Hour Advance Festival Pre-Sale Window
✓
✓
✓
Contemporary Calgary discounts on both: annual membership and gift shop purchases
10%
10%
10%
$2 off regular screenings at Globe Cinema
✓
✓
✓
Invitations to periodic special preview screening events
✓
✓
Day-pass to Film Circle Lounge (you and 1 guest)
1 day
2 days
Single-day parking pass for Eau Claire Market during the festival
1 pass
Invitation for you and 1 guest to a special event reception
✓
Donation Tax Receipt
$60
$100
Questions? Contact donation@ciffcalgary.ca to learn more.
The Calgary International Film Festival Society is a not-for-profit organization, and a registered charity (Charitable Registration Number: 864856927RR0001)
This year's Calgary International Film Festival (CIFF) takes place September 21 - October 1, 2023. Learn more about Planning Your Visit and our Safer Spaces policy.

*Ticketing and service fees will be added at check out (up to a maximum of $10 per transaction).
LAST Year's Clubciff EXCLUSIVE MERCH ITEM: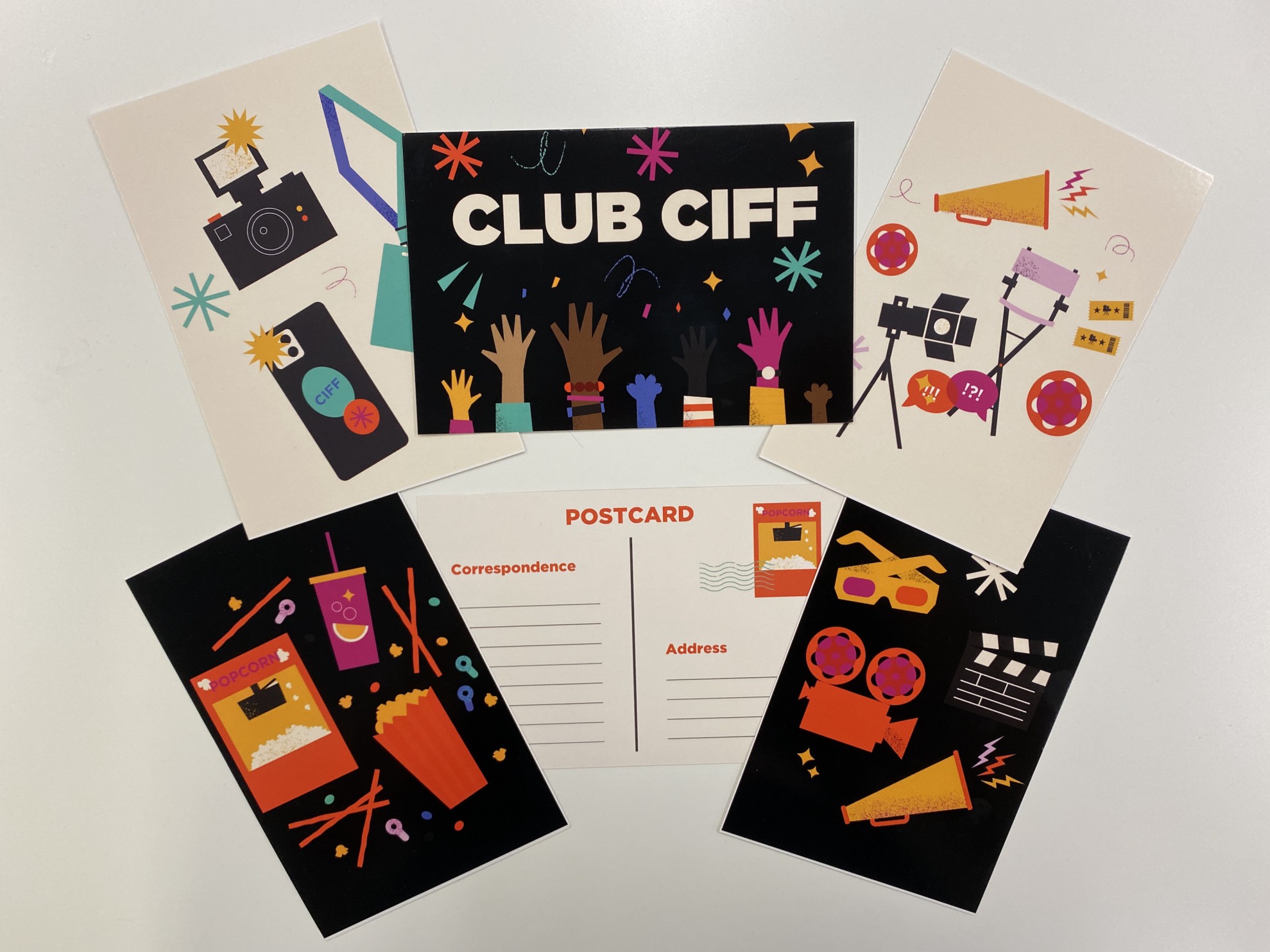 Redeeming Your Membership
General Admission Tickets: Look for them on your Eventive account beginning in early September. You can assign your tickets to specific films in-cinema or on video on demand (virtual cinema) beginning September 5
2023 Festival Ticket Product Discount: Begin topping up your account with more tickets now with early bird pricing or with your ClubCIFF discounts on regular-price ticket bundles beginning August 8, 2023
Merch Discount: Apply your perks on festival merch online or at the festival venue box office
Exclusive Merch Item: Available for pick-up at the venue box office during the festival
48-Hour Advance Pre-Sale Window: To take place via ciffcalgary.ca on September 5, 2023
Globe Cinema Discount: $2 off regular Globe Cinema screenings (not including festivals)
Invitations to periodic special preview screening events
Tax Receipt: Members will receive an email with their donation tax receipt within 60 days of their membership purchase
Memberships are valid for one year following your purchase date, and discounts/perks can only be applied to a single festival year.