Streaming Information
Online Only
Availability: February 4-7
Reserve Stream
CIFF's Top Docs (formerly known as Doc Soup) is a monthly feature-length documentary series running January - June 2021 online and in cinema.

KENNY SCHARF: WHEN WORLDS COLLIDE screens online February 4-7.

Due to AHS regulations, the in-cinema event originally scheduled for February 3 has been cancelled.
When Kenny Scharf arrived in NYC in the early 1980's, he quickly met and befriended Keith Haring and Jean Michel Basquiat. There, amongst the fervent creative bustle of a depressed downtown scene, the trio would soon change the way we think about art, the world, and ourselves. But unlike Haring and Basquiat, who both died tragically young, Kenny lived through cataclysmic shifts in the East Village as well as the ravages of AIDS and economic depression.

WHEN WORLDS COLLIDE is about the art of fun, about living life out loud, despite setbacks, and Kenny Scharf's particular do-it- yourself, high-tone, technicolor artistic vision.
CLOSED CAPTIONING
This film is available with Closed Captioning
RATING: PG
______
Virtual Ticket: $13.50, includes tax, plus fees, on sale now.
In-Cinema Ticket: $13.50, includes tax, plus fees. When in-cinema screenings are possible, tickets will be announced two weeks prior to the event.
Streaming? TEST YOUR DEVICE
Got Questions? Check our FAQ
Learn more about our Top Docs Series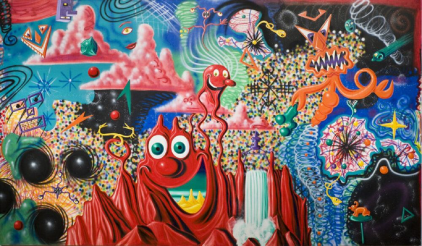 Festivals

SXSW 2020
DOCNYC 2020
FIN Atlantic International Film Festival 2020
Woodstock Film Festival 2020

Director

Malia Scharf, Max Basch

Producer

Dan Braun, David Koh

Screenwriter

Max Basch, Malia Scharf

Cinematographer

Nathan Meier, Beck Stupak

Music

Roger Kleinman, Zachary Seman

Cast

Jean Michel Basquiat
Irving Blum
Jeffrey Deitch
Yoko Ono
Steven Hager