The Calgary International Film Festival (CIFF), presented by ATB, values our connection with film industry professionals from around the world, filmmakers, festival alumni, media, and the growing Alberta film community. From service to homegrown productions and everything in between, we continue to celebrate filmmakers and industry talent.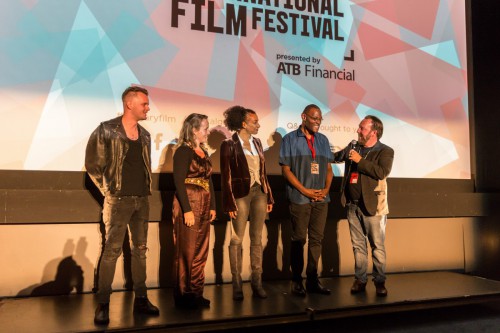 INDUSTRY ACCREDITATION
We offer industry accreditation to organizations and individual representatives from the film industry. Once accredited, representatives will be invited to purchase festival ticket bundles with a 20% industry discount.
Industry accreditation for the 2021 festival will open in the summer.
Don't miss an announcement, sign up for our Industry Newsletter today.
NOTE: Industry accreditation is granted at the discretion of festival staff and will be revoked if users violate the terms of use. Once accredited, your bundle is non-transferable and cannot be shared with other users. Please allow up to 7 days for your accreditation application to be processed.
Film Submissions
Submissions for CIFF 2021 are now open
Learn more and apply today.
FESTIVAL AWARDS
In 2020, we gave our five juried awards with a total cash value of almost $25,000 CAD and eleven Audience Choice Awards. We're also a qualifying festival for the Academy Awards. Learn more about our festival awards here.
Join our Industry Newsletter
Get industry news for the 2021 festival delivered to your inbox.
Subscribe here.
______________________
About CIFF
Founded in 2000, CIFF is a not-for-profit charitable organization that brings films and filmmakers from around the world to Calgary for its annual fall festival and year-round programming. CIFF is now the largest event of its kind in Alberta and the sixth-largest film festival in Canada, bringing audiences together for remarkable and engaging cinematic experiences.
The 22nd Calgary International Film Festival takes place September 23 - October 3, 2020, featuring stand-out stories and once-in-a-lifetime experiences. Audiences can enjoy films in the cinema or stream at home across the entire province of Alberta.
CIFF is also an Oscar-qualifying festival for short films, a qualifying festival for the Canadian Screen Awards, and was named one of Top "50 Film Festivals Worth the Entry Fee" in 2016, 2017, 2019 & 2020 by MovieMaker Magazine.
Read our 2020 Festival Report and relive the magic of our 20th-anniversary festival.