Posted on September 17, 2020
We all know films like BROKEBACK MOUNTAIN, THE REVENANT, and LEGENDS OF THE FALL were all filmed against the backdrop of Alberta's magnificent landscapes, but did you know that Calgary has a world-class film studio too?

________
Our province is a hot spot for filming. With the unique landscape of the Rockies, Prairies, and Badlands at the doorstep of a thriving, inclusive, and safe urban municipality, southern Alberta offers an unparalleled variety of locations.
Even with this competitive advantage, it was identified in 2016 that in order to attract foreign direct investment for film and television production to southern Alberta, a critical piece of infrastructure was required. In response to that need, the sector's very own Calgary Film Centre opened in May of that year.
The Calgary Film Centre is a world-class, purpose-built facility suitably equipped and serviced so you can tell your story with ease. Built on 8.35 acres, the Calgary Film Centre features three purpose-built sound stages and three multipurpose workshops and warehouse spaces. The film centre is equipped to support current government and industry safety protocols on set. Learn how at our Resources Page on our website.
Our legacy of storytelling is built on our ability to deliver the greatest return on every production dollar in the most stunning landscapes and filming locations. The Calgary Film Centre has your production covered, with 50,000 square feet of purpose-built sound stages and 35,000 square feet of workshop and warehouse space. Co-located with anchor tenant William F. White, Canada's largest provider of professional motion picture, television, interactive digital media and theatrical production equipment, the Calgary Film Centre is equipped to service year-round productions.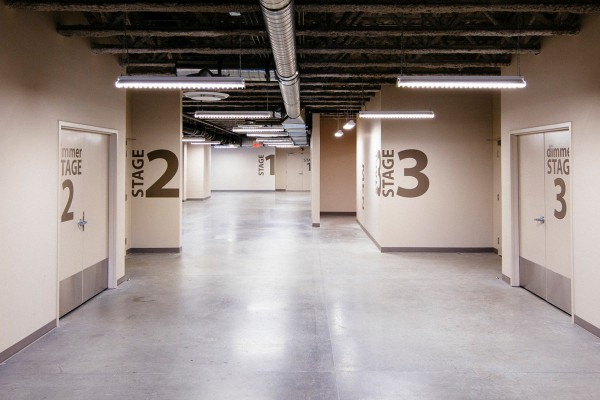 Since opening, production activity in the Calgary Film Centre has included:
TIN STAR Seasons S1 & S2
FARGO Season S3
GHOSTBUSTERS AFTERLIFE (starring, Finn Wolfhard or CIFF 2020 selection, NIGHT SHIFTS)
GAME OF THRONES S8
IMAX
LET HIM GO
WYNONNA EARP Season 4
ABOUT THEIR STAGES
Acoustically sealed, with duct silencers to reduce noise.

Up to 2,440 amp panels with dedicated camlocks.

Air can be replaced twice per hour to remediate scenes involving fog and smoke and mitigate risk of transmission.

16x16 overhead doors allow a semi-trailer, motorhome or bus on stage.

Each truss can support 15,000 lbs. with 42' floor to truss.
_____________

Want to know more? Take a virtual tour of the 50,000 square feet of sound stages and see for yourself.
Calgary International Film Festival is grateful for the support of the Calgary Film Centre.
Back to blog listing