Posted on June 15, 2020
Here's the latest post in our Cinema Spotlight blog, a series dedicated to elevating the voices and stories of people in marginalized communities. While some films speak to issues of oppression and racism, others celebrate the accomplishments and contributions of these communities to the arts and society.
On today's blog, we're highlighting Indigenous stories, artists, and filmmakers from Canada and beyond, that will hopefully challenge, inspire, and entertain you.
This is a special time - not only are we celebrating National Indigenous History Month during the month of June, but it's Calgary Aboriginal Awareness Week June 15 - 21st!
Our people will be healed (CIFF selection 2017)
Directed and produced by Alanis Obomsawin
Available on NFB WATCH NOW
OUR PEOPLE WILL BE HEALED is one of hope, seeking out and celebrating the good taking place in northern Manitoba's Norway House. Centred on the community's school, the wilderness surrounding it, a two-week canoe trip and plenty of fiddle music, this documentary introduces us to teachers, mentors, students and elders and their love for the community and the Cree culture.
this ink runs deep (ciff selection 2019)
Directed by Asia Youngman
Available on CBC Art (YouTube) WATCH NOW
Indigenous tattoo artists from across Canada are reviving their ancestral traditions that were taken away during colonization. The practices were thought to be lost forever, and this revival reflects a reawakening of pride, culture and identity. As we travel across Canada, we learn about the significance of tattoos for different Indigenous cultures, why they disappeared, and why they are now being brought back to life.
rhymes for young ghouls (ciff selection 2013)
Directed by Jeff Barnaby
Available on Amazon Prime WATCH NOW
In 1976, 15-year-old Alia (Kawennahere Devery Jacobs) is growing up on the Red Crow Mi'gMaq reservation, where every First Nations child is legally required to attend residential school. Aila is expected to live at a school called St. Dymphna's, run by the sadistic government agent nicknamed Popper. But with the help of her Uncle Burner, Alia finds a loophole. With enough cash, the family can pay Popper a so-called "truancy tax" to keep her home. Luckily for Aila, she has a marketable talent: she's a whiz with weed.
little thunder (2015)
Directed by Nance Ackerman and Alan Syliboy
Available on NFB WATCH NOW
In this animated short, Nance Ackerman and Alan Syliboy collaborate to bring us the story of LITTLE THUNDER, who must leave his family and embark on a cross-country canoe trip to become a man. The film was inspired by a Mi'kmaq story called The Stone Canoe and explores Indigenous humour and legend.
birds of passage (ciff selection 2018)
Directed by Ciro Guerra and Cristina Gallego
Available on Amazon Prime WATCH NOW
The origins of the Colombian drug trade, as seen through eyes of an indigenous Wayuu family that becomes involved in the booming business of selling marijuana to American youth in the 1970s. When greed, passion and honour collide, a fratricidal war breaks out and puts their lives, culture and ancestral traditions at stake.
the grizzlies (ciff selection 2018)
Directed by Miranda De Pencier
Available on Crave WATCH NOW
Kugluktuk 1998: the home of some of North America's highest alcohol abuse and suicide rates. When Russ Sheppard, a newbie teacher with a southern-Canadian naivete moves north, he encounters rampant student absenteeism and ambivalence. When faced with unfathomable social dysfunction, Russ starts a lacrosse team, and his love of the sport is infectious. Soon, the students form The Grizzlies lacrosse team and unite in a shared passion for their sport and their renewed pride in their hometown.
Jordan river anderson: the messenger (ciff selection 2019)
Directed by Alanis Obomsawin
Available on NFB WATCH NOW
The five fleeting years of Jordan Anderson's brief life were spent in Winnipeg hospitals, due to the federal and Manitoba governments arguing over who was financially responsible for his care. Because of this, he did not have access to the services given to other Canadians to live the remainder of his life in his home. Separated from members of his family and community, Jordan's case became the focus for the long struggle for equal healthcare for all Canadians and led to the founding of Jordan's Principle. Despite a law being passed by the House of Commons, and the Canadian Human Rights Tribunal issuing a ruling guaranteeing access to care, many Indigenous patients still faced a denial of services.
there's something in the water (2019)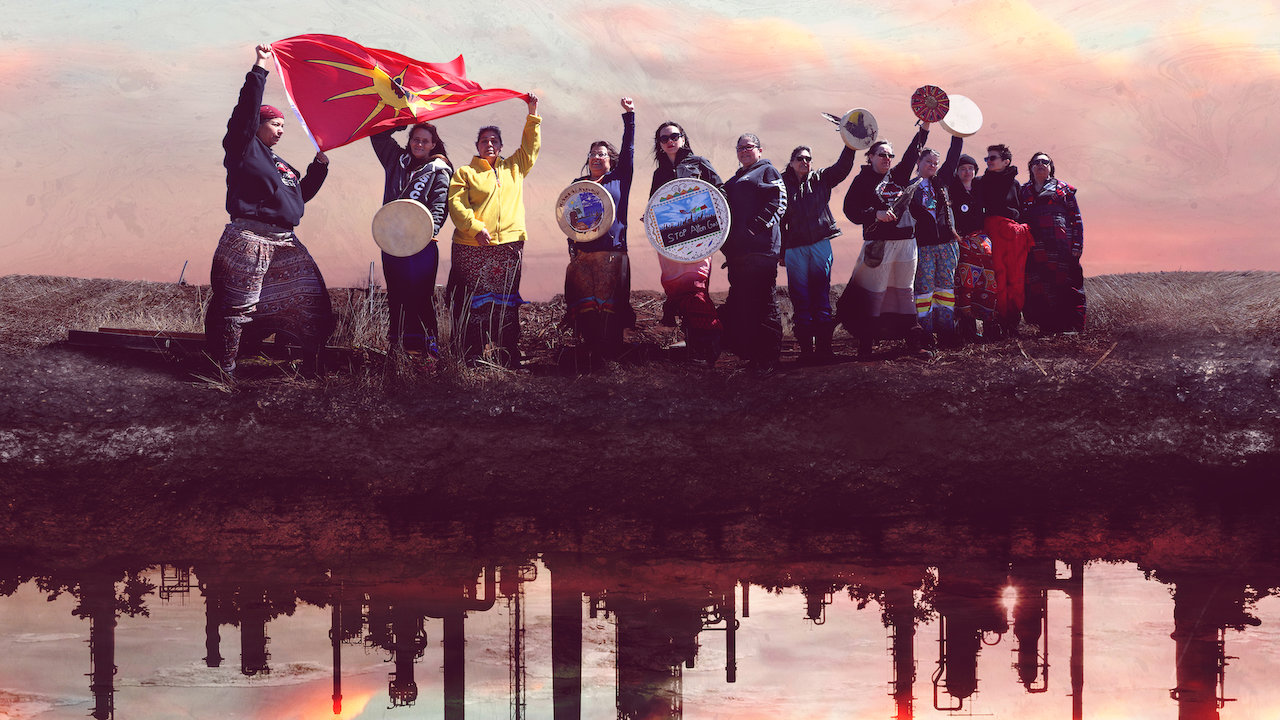 Directed by Ellen Page and Ian Daniel
Available on Netflix WATCH NOW
This documentary by Canadian actress and filmmaker Ellen Page and Ian Daniel focuses on minorities who are being effected by the environment around. The film begins by highlighting conditions in the black community outside of Shelburne, Nova Scotia, where a correlation between contaminated well water and elevated rates of cancer went unaddressed. The film also explores other Nova Scotia communities which were negatively impacted by water pollution on Boat Harbour and Mi'kmaw tribal lands.
blood quantum (ciff selection 2019)
Directed by Jeff Barnaby
Available on Shudder WATCH NOW
An infectious zombie outbreak begins to sweep the world but the indigenous inhabitants of a Mi'gmaq reserve are strangely immune. Two young men in a jail cell have to assist their police captors when the town residents become increasingly violent. Humans and dogs alike are turning into snarling, violent beasts. When a person is bitten, it is only a matter of time before the disease takes hold of them. Except for the those with Mig'maq heritage. Soon the infectious plague has spread across the world and a gated community keeps the zombies at bay.
mobilize (2015)
Directed by Caroline Monnet
Available on NFB WATCH NOW
This short film, crafted entirely out of NFB archival footage by First Nations filmmaker Caroline Monnet, takes us on an exhilarating journey from the Far North to the urban south, capturing the perpetual negotiation between the traditional and the modern by a people moving ever forward.
Warrior women (ciff selection 2018)
Directed by Christina D. King and Elizabeth A. Castle
Available on Vision Maker Media WATCH NOW
Since the 1960's, Lakota activist and community organizer Madonna Thunder Hawk has been a strong and eloquent voice for Native resistance and sovereignty. From her early involvement in the American Indian Movement (AIM) to her formidable presence at Standing Rock along with the thousands protesting the Dakota Access Pipeline, this inspiring film shares the untold story of countless Native American women struggling for their people's civil rights.
The rabbit proof fence (2002)
Directed by Phillip Noyce
Available on Amazon Prime WATCH NOW
Three mixed-race girls are torn brutally from their Aboriginal mother and sent over a thousand miles away to a training camp for domestic workers as part of a government policy to integrate them into white society. Linking the camp and their distant home territory is a vast rabbit-proof fence, which stretches from one coast to another and just might help the girls find their way back.
Hunt for the wilderpeople (2016)
Directed by Taika Waititi
Available on Amazon Prime WATCH NOW
Raised on hip-hop and foster care, defiant city kid Ricky gets a fresh start in the New Zealand countryside. He quickly finds himself at home with his new foster family: the loving Aunt Bella, the cantankerous Uncle Hec, and dog Tupac. When a tragedy strikes that threatens to ship Ricky to another home, both he and Hec go on the run in the bush. As a national manhunt ensues, the newly branded outlaws must face their options: go out in a blaze of glory or overcome their differences and survive as a family.
MORE FILMS TO CHECK OUT
Here's a list of even more films to watch:
-ELDER IN THE MAKING ( CIFF SELECTION 2015) WATCH NOW on Vimeo
-THE LEGEND OF SARILA (CIFF SELECTION 2013) WATCH NOW on YouTube
-NIPAWISTAMASOWIN: WE WILL STAND UP (CIFF SELECTION 2019) WATCH NOW on CBC Gem
-BIRTH OF A FAMILY (CIFF SELECTION 2017) WATCH NOW on NFB
-CREE CODE TALKER (CIFF SELECTION 2016) WATCH NOW on YouTube
-ANGRY INUK (CIFF SELECTION 2016) WATCH NOW on NFB
-FIRST STORIES - TWO SPIRITED (2007) WATCH NOW on CBC
-LUMAAJUUQ (2010) WATCH NOW on CBC
Back to blog listing