Posted on March 5, 2018
World Cinema Programmer Sachin Gandhi is back from the Berlin Film Festival and looks forward to international cinema in 2018.
--
I recently attended the Berlin Film Festival (Feb 15 - 25) and got to view some worthy foreign films that could likely feature in next year's award season. Even though the Cannes Film Festival in May kick-starts the foreign film festival season, the Berlin film festival has started to make some significant inroads in unveiling award-winning foreign films. In the last few years, works unveiled at Berlinale have gone to further acclaim on the film festival circuit and also at the Oscars.
For example, Asghar Farhadi's brilliant A SEPARATION (shown at Calgary Film 2011) debuted and won the top prize in Berlinale 2011 (Golden Bear) before going on to win the Academy Award for Best Foreign Language film in 2012. In 2015, Jafar Panahi's TAXI (Calgary Film 2015) debuted and won the Golden Bear in Berlin, while 45 YEARS (Calgary Film 2015) took the Silver Bear for Best Actress (Charlotte Rampling) and Best Actor (Tom Courtenay). Rampling went on to get nominated at the 2016 Oscars in the Best Actress category for 45 YEARS. Johnny Ma's OLD STONE (Calgary Film 2016) premiered in Berlin 2016 before going on to win multiple awards on the film festival circuit including Best Canadian First Feature at TIFF.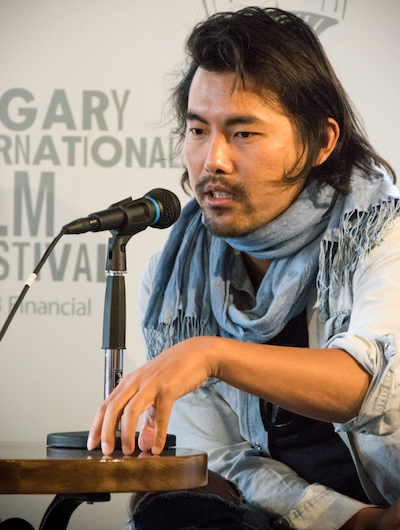 OLD STONE Director Johnny Ma at the 2016 Calgary International Film Festival
Berlinale 2017 continued the trend of unveiling award-winning foreign films that left their mark on the film festival circuit. Fittingly, two of the Berlin award winners from 2017 had a presence in this year's Academy Award Foreign language film category. Of the five films nominated in this year's foreign language category, two debuted at Berlin (ON BODY AND SOUL, A FANTASTIC WOMAN), two debuted at Cannes (THE SQUARE, LOVELESS) and the final film THE INSULT debuted at the Venice film festival.
At Berlin, ON BODY AND SOUL (available on Netflix) took the Golden Bear while A FANTASTIC WOMAN took Best Script and the Teddy award before going on to win this year's Oscar for Foreign Language film. Berlin 2017 also premiered another film that narrowly missed making the final five nominees in the Oscars foreign language category: FÉLICITÉ won the Jury Grand Prize in Berlin 2017 and made the long list of 9 nominees for the Oscar's Foreign Language category. A FANTASTIC WOMAN, THE SQUARE, LOVELESS and FÉLICITÉ all showed at the 2017 Calgary International Film Festival.

Given the strength of films at Berlin 2017, I was curious to see how this year's edition stacked up. Incredibly, it turned out that a few films at this year's Berlinale topped the award-winning films from Berlin 2017.
Berlinale 2018 got off to a solid start and opened with the world premiere of Wes Anderson's ISLE OF DOGS, a film that won him the Silver Bear for Best Director. The best film I saw at Berlin was German filmmaker Christian Petzold's TRANSIT which is being compared to a modern-day CASABLANCA. TRANSIT is pure cinematic delight and a hypnotic film that mesmerized me from the opening frame.
TRANSIT
Marcelo Martinessi's excellent Paraguayan co-production THE HEIRESSES deservedly won two awards, the Silver Bear Alfred Bauer Prize (given to a film that "opens new perspectives on cinematic art") and Silver Bear for Best Actress to Ana Brun. The film shows how the main character Chela (Ana Brun) is forced to sell her prized antique furniture and silverware to offset her financial troubles. The film is also a smart commentary on Paraguay's economic situation and one can see the lingering effects on a society that emerged from a 35-year long dictatorship in 1989.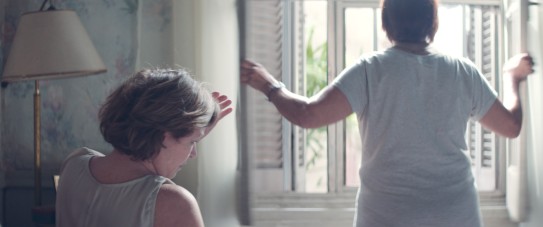 THE HEIRESSES

I also managed to catch new works from many established directors at Berlin. It was relishing to see Hong Sang-soo's excellent GRASS, another brilliant piercing study of human behaviour from the Korean master. Sergei Loznitsa's (A GENTLE CREATURE) engaging documentary VICTORY DAY depicts the complex sentiments that still exist today surrounding the Battle of Berlin (WWII) between Russians and Germans. Korean director Kim Ki-duk (MOEBIUS, PIETA, TIME) has never been shy to push the envelope. At Berlin, he premiered HUMAN, SPACE, TIME AND HUMAN which is his most ambitious film to date. The film dives into human violence and survival unlike anything he has done previously.
There were some surprises at the festival as well such as Timur Bekmambetov's PROFILE which is an intense emotional roller coaster ride. PROFILE, which won the Audience Award in the Panorama category, is based on a true story about journalist Amy Whittaker who goes undercover to depict how ISIS recruits people via social media. The film's real strength comes from how it immerses the viewer into the world of social media (Facebook, Skype) and the movie screen becomes a larger than life computer screen. Bekmambetov and his crew developed a new software for filming the social media screens and in the process they have created a new film-language, one that could change how we view and interact with movies in the future.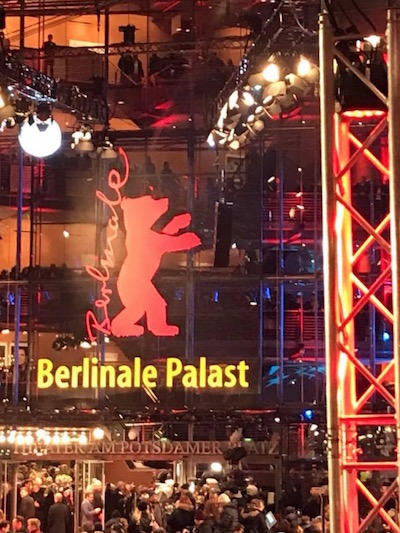 Berlin is not only a film festival but a film market as well. The European Film Market (EFM) at Berlin brings together thousands of film producers, distributors and financiers. The EFM can be considered a parallel festival because it holds private screenings of more than 700 films apart from the main Berlin festival. At EFM, one can get an advanced look at some of the upcoming films that will be released in the next few years. Many distributors have trailers/clips of films currently in post-production that they hope will be selected at Cannes or the fall festivals such as Locarno, Venice, TIFF.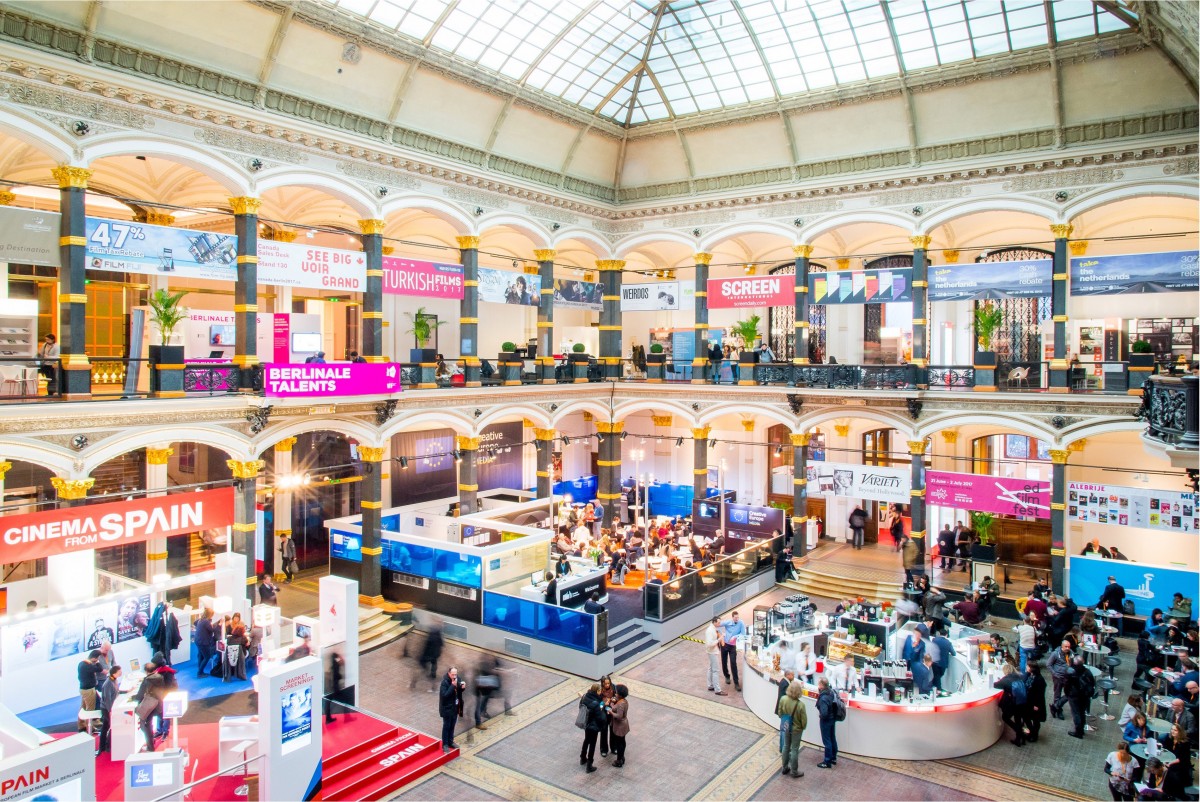 European Film Market at Berlin
Luckily, I managed to catch some trailers and view extended clips of some tantalizing titles in the pipeline. Even if a handful of these films get selected for this year's Cannes, the countdown for them coming to the Calgary International Film Festival can start. This list of promising titles feature established directors and second or third films from promising directors whose films have already shown in Calgary either by the Calgary International Film Festival or the Calgary Cinematheque. The year has only begun but already it is clear that there is a lot to look forward for international cinema in 2018.
Back to blog listing