Posted on October 4, 2017
It's the first week of October, which means the festival has been over for a few days already. It seems like just yesterday we were planning for the Opening Gala, and now here we are, looking back after another record-breaking year that saw more than 40,000 fans and friends join us for the ride. But all good things must end, and luckily for us, we had a total blast along the way!
If you're already feeling a little lost without the constant call of new films and interesting filmmakers, we've got the cure for you! We have a whole pile of highlights, photo albums, and even a few upcoming events for our dedicated fans. You can relive our Opening Gala, WHEN THEY AWAKE, and the first few days of the festival, our Behind the Screen talks and world premiere of the local film EVERFALL, the premiere of fantastic Alberta content like NO ROADS IN and FAKE BLOOD, or get the feel of the whole festival from our Closing Gala highlight reel. Swing by our YouTube page to find them all!
And if you haven't been following us on social media - like Twitter, Instagram, or Facebook - then now is the perfect time! You can find plenty of behind-the-scenes photos, stories, and posts from the duration of the festival, including photo albums of our awesome filmmaking guests (and the fans that come to see them). If you were out and about at the festival, then you never know - you might be in one of the shots! Following us is also a great way to stay up-to-date on news and events that happens through the year. You can sign up for the newsletter too, if you want to be sure not to miss anything!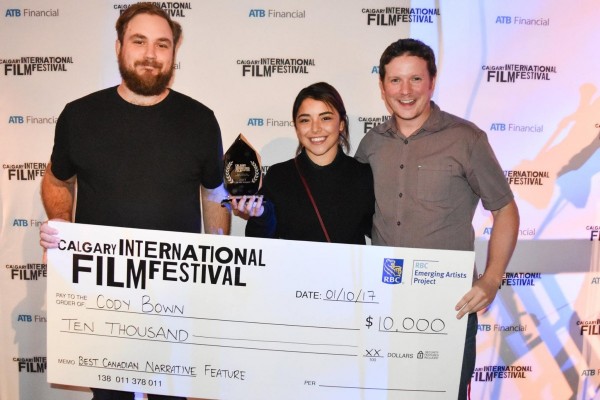 And speaking of news, did you hear about Sunday's Awards Party? Director Cody Bown and his crew from the film GREGOIRE took home the top prize - a tasty $10,000 for Best Canadian Feature! There were plenty of other awards handed out as well, including the $2,500 winners for Best of Shorts, and six audience awards. Check out the full list here!
We want to thank every one of the filmmakers, fans, and visitors to our events for their support over the last few weeks. You make this festival possible and we are more grateful every year to have such an incredible community in which to work. We are immensely grateful for another record-setting year, and we already can't wait to see you in 2018!
Back to blog listing