Posted on October 1, 2017
MIGHTY GROUND, winner of the Audience Award for Best Documentary Feature, is a hot new doc from the United States that brings the scope of the music industry down to just a single, down-on-his-luck man who loves to sing. Director Delila Vallot, Producer Aimee Schoof, Music Supervisor/Producer William Dane and Subject Ronald Troy Collins joined us for both screenings at the festival and Ronald Troy Collins wowed audiences with his musical talents.
Producer Aimee Schoof took the time to tell us a bit about the film that took home the Audience Favourite Award for Feature Documentary!

--
Can you briefly summarize what your documentary is about?
MIGHTY GROUND follows the journey of a gifted songwriter named Ronald Troy Collins, a homeless man living on the streets of Skid Row, and the impact he makes on those who come to love him. A living example of redemption and what it means to transform oneself from rock bottom.

How did you first learn about this story?
I met Ronald with a friend in downtown Los Angeles late one eve, outside a club in January 2016. He asked if he could sing for us, there was a magical connection. I met Delila a few months before and we started a conversation about doing a doc series on homelessness. I called her the day after meeting Ronald and said we should start shooting, and the story just unfolded. A series became a feature. We were still shooting but submitted to the LA Film festival. When we got the word we were in, that's when we ended the story you see in the movie, but it continues....
What's one new thing that you learned when making this film?
This was my first documentary and first time being on the other side of the camera in addition to producing, so I think the key word is surrender. Surrender to circumstances, story, the outcome. I always have felt that bigger forces were leading this project, many gifts and opportunities continue to present themselves every step of the way.

Can you share a behind the scenes story from filming?
There are so many. Being on Skid Row is really intense. We were able to shoot mainly because of Ronald's relationships with the people he knew. People trusted us and didn't harm us, mainly because they knew him and I think wanted to see him succeed, or 'get out" of his current situation. In a way, he represented hope. When we were shooting the making of the music video of AFRICA, Ronald was walking and singing in the heart of Skid Row as we were filming. People were calling out, some angry, but mostly rooting him on. One man called out, "We knew you'd make it, singer man." It's the hope in the depths of poverty and addiction, that can transform. That is this story and the message I hope will spread as people hear and see the film.
Ronald, the main character in the documentary has spent time in and out of prison, lives on the streets of Los Angeles and struggles with drugs. Many people in Ronald's position fall into total self-destruction. What makes his attitude and his passion so unique?
He will say it's all God and his gift. I think it's that, and his born mission to make a difference and impact in this world through his story. He is doing that through the film, his voice and songs. He is a living example of transformation, he spreads joy and inspiration even in his darkest moments. He has a gift to be able to really see and communicate with anyone, crossing all racial and economic lines.
The lives of individuals experiencing mental health issues and addiction are often portrayed in bleak and stereotypical terms – despair, hopelessness & instability. Why is it important to share stories like Ronald's?
We hope that our story humanizes homelessness. Every person is unique and has an individual story, a history, a path. Everyone has dreams, hopes, and inspirations, and is dealt a set of obstacles, some much bigger than others. It's through human connection, attention, love and compassion, that those dreams can become a reality.

What role does music play in Ronald's life, and what role can it play in the lives of others who are going through challenging times?
Music has been everything in his life. He says it's what's gotten him through all the rough times, it's what's fed him while living on the streets, it's what makes his soul sing. Music can transport, lift, inspire.....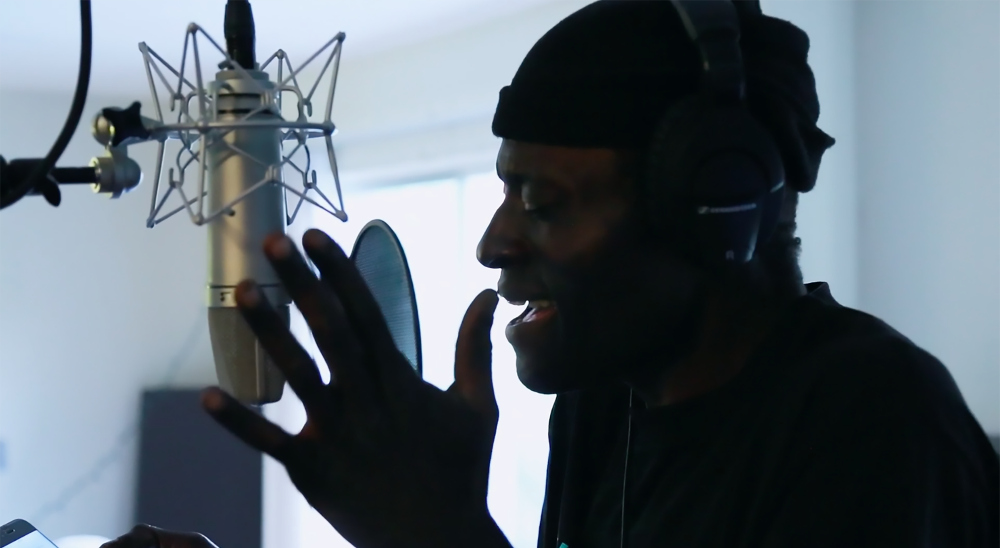 ----
Back to blog listing