Posted on September 27, 2017
We've passed the midway point of the festival and today we're going for a different tone with the sibling directors of SMALL TOWN CRIME, Eshom and Ian Nelms. The brothers will be joining us for the film, a violent crime drama juxtaposed with great humour, on Thursday, alongside a pair of producers. Here's what they said about the film!
---
Can you quickly summarize what Small Town Crime is about?
Distilled to its core, it's about one man's final chance at redemption. Deep down Mike Kendall (played by John Hawkes) knows this, that's why he puts it all on the line!
What was the inspiration behind the story?
To start, we're big fans of crime noir. Everything from George P. Pelecanos novels, to cinema like Melville's LE SAMOURAI, Eastwood's DIRTY HARRY series, and the Coen Brother's NO COUNTRY FOR OLD MEN have fueled our torrid love affair with the genre. The germ of SMALL TOWN CRIME happened one afternoon as we drove along a rural stretch of road just outside of Bakersfield, California. We sprung upon an idea: "What if a drinking bender caused a man to wake up in the middle of nowhere and he discovered a body on his drive back into town?" That was our leaping-off point. We find a great many of our stories have their origins rooted in such questions. Answering is the fun part.
What's one new thing that you learned when making this film?
The hardest part of this question is keeping the answer to just one lesson but we shall try. SMALL TOWN CRIME introduced us to the composer, Chris Westlake. From his first watch through of the film, Chris's insight and observations perfectly synced with ours. His taste and score were spot on and helped us to elevate the film by threading the sonic needle time and time again. Through tenacity and a relentless pursuit of perfection, Chris was a critical part in bringing SMALL TOWN CRIME to its fullest potential. This film was definitely our "Power of Music" lesson.
Can you share a behind the scenes story from filming?
Here's two:
1) Anthony Anderson's first day of shooting showed just how much of a pro he is. It was literally, "Welcome to the show, Anthony. Could you please put on this bondage mask, get covered in blood, and climb into this trunk all day?" He's in it to win it, for sure.
2) While we had several stunt drivers on hand, John Hawkes did almost all the driving for his character. The Nova became an extension of him. After one particularly impressive 180-degree, gravel-spewing, rubber-burning, feat a stuntman asked John if he'd done a lot of car work. "Not really," John replied. "There's just something that happens to me when I get behind the wheel of this car."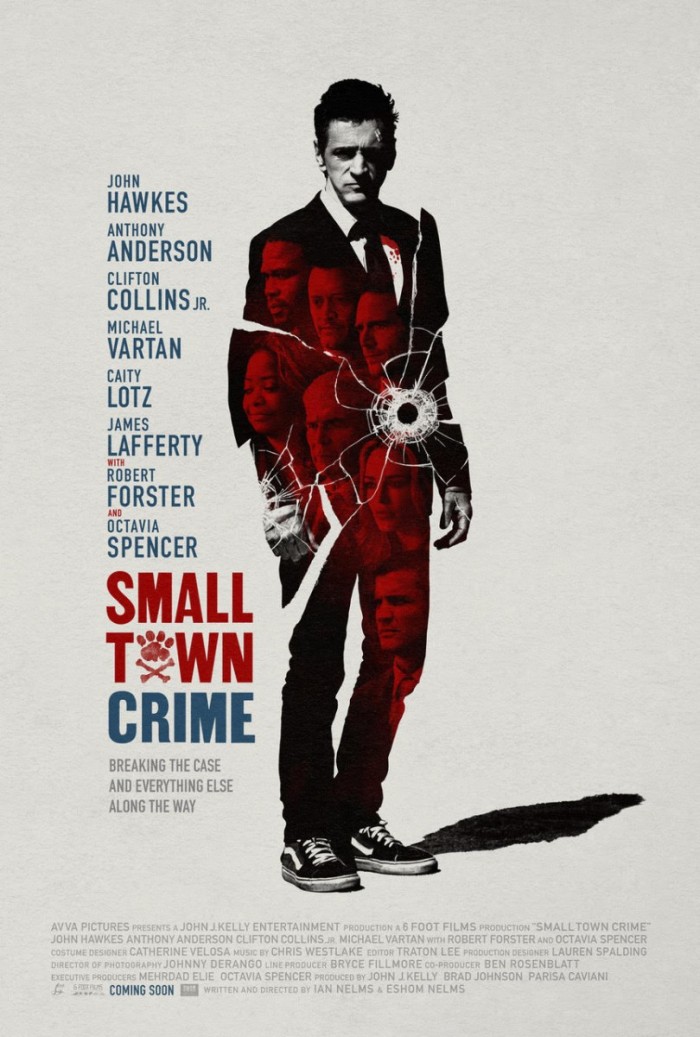 From wrestling, to literature, to fine art, your backgrounds diverge far from film at times. Did you find that any of your prior interests and education helped during the creation of the movie?
We find ourselves pulling from all aspects of our life experience every time we set out to make a film. Eshom's fine arts education helps us put together the visual style of our films, and Ian's wrestling background comes in handy when we want to pull off something physical. Mike's 1970s Nova was inspired by a friend's car from high school and the countless whiplash-inducing burnouts he'd do leaving the school's parking lot during lunch. Even something like our experience in the sport of paintball helped us to block and design the final trainyard shootout. We believe there is no such thing as a wasted experience as we constantly mine them to inform our filmmaking.
Somewhat of an anomaly in the industry, you two always work together on films. Are there instances where that helps (or hinders) the process? Do you find that you each contribute something different?
A good way to describe our collaboration is that we have similar tastes, but different strengths. We fill in the cracks for each other. When one of us is struggling in an area, the other seems to have the answer or something that will lead us to the answer. It's always teamwork. We collaborate in every aspect of the process (i.e. writing, directing, and editing) and we respect one another's creative instincts. If we're both not happy, then it's not done.
What do you hope audiences take away from the film?
First and foremost, we hope the audience is entertained. That's always our number one goal. Beyond that, we know every viewer is going to find their own message or meaning in the film and we'd hate to have someone think their takeaway was wrong because it doesn't align with what we expected. All we can do is present the story in a way we find compelling and hope it resonates with the audience. What's amazing, for us, is how two people can watch the exact same film and both enjoy it for totally different reasons. That's the magic of cinema. Ultimately, the last leg of a film's journey is with the viewer. No matter what our intent they are the final interpreters and no two translations are alike.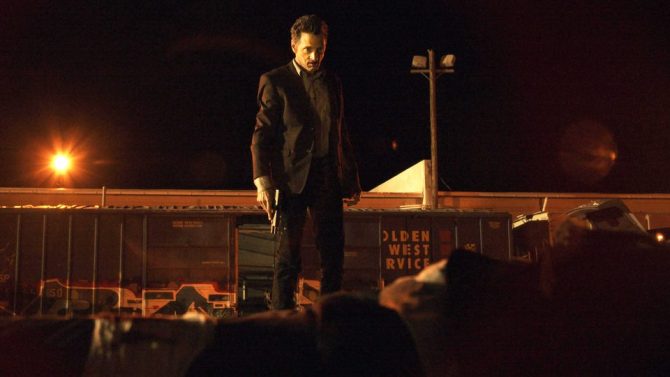 ----
After Thursday's screening, SMALL TOWN CRIME will play on the last day of the festival, October 1, at 1:30 PM at Globe Cinema. Afterward, come on out to our Awards Party and see who the big winners are at the festival this year - including our first-ever Fan of the Year champion!
Back to blog listing