Posted on September 22, 2017
Tonight at the festival you can catch the Canadian Cinema selection PUBLIC SCHOOLED, which was filmed just across the mountains in Vancouver. We got a hold of producer Josh Epstein, who gave us the inside scoop on what the film is about. Check it out before heading to the theatre this evening!
PUBLIC SCHOOLED is a whimsical coming-of-age film masked as a teenaged romantic comedy. The story follows 16-year-old Liam, a home-schooled, socially awkward genius whose whole universe revolves around his single mom, Claire. When early acceptance to Cambridge University collides with love at first sight, Liam deliberately bombs his final exams in order to finally go to "normal" school, desperately searching for the teenage experience and social interaction he desires.
---
One writer claimed the protagonist's mother seems to believe that public school breeds mediocrity. Is this your belief too?
No, I think home or public schooled can both be done incredibly well. I don't have kids yet, so who am I to tell anyone how to raise their kids, but my guess is that it's important to socialize your kids with other kids while home schooled, and it's important that you spend time enriching your kid's life when they are public schooled.
Do you see yourself in any of the characters and their personality traits?
I think we all relate to our lead awkward kid. I was benched for my little league baseball team's championship game, we won but got the title stripped and the league made us replay the game because you weren't allowed to bench players. I was incredibly embarrassed but I was always able to soldier on and I think those experiences are what provides me with the drive I have today.
What was the overall writing process from conception to execution? How long did it take? What obstacles did you come across and how were they resolved?
This script came out very naturally for Kyle (Rideout, the director) and I. It was the first thing we started writing and it's gone through many incarnations. I think in our first draft our lead kid's best friend was a bear....that got cut. Kyle and I love writing together, we have full permission to edit each other's work. If we argue over something, then our rule is whoever cares more, wins.
There are some big names in this movie. Did you have a say in the casting process? How excited were you to have stars like Judy Greer and Russell Peters cast as some of the characters?
We're over the moon. Kris Woz and Kara Eide helped us cast and did an incredible job. We are able to attract a world star like Grace Park to come home and shoot a film with us. Kyle and I are also firm believers in theatre talent being able to handle large film roles. Most major cities like London, NY or Toronto dive into the theatre talent and we do the same. Daniel Doheny, Andrew McNee and Jonathon Young are some of the actors we have borrowed and everyone's been in awe of their switch to film. This is Daniel's first film role and since shooting our film, he has landed the lead in two straight Netflix/Ben Stiller-produced features.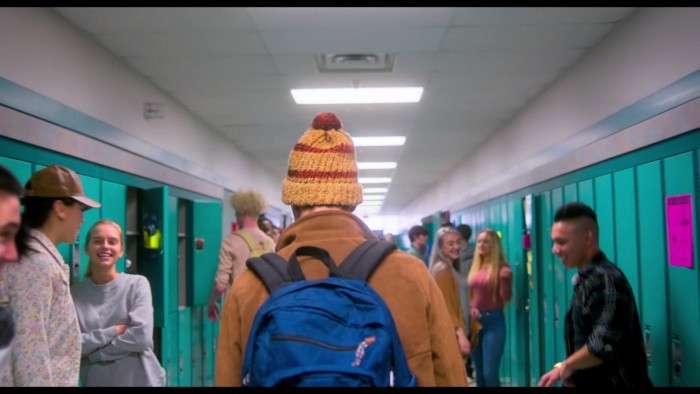 What would you say is the purpose of the film? What are you hoping for it to accomplish or for the audience to walk away with?
There's popcorn flicks, and then there's, like, frozen-yogurt-with-Skor-bits-Reese's-and-cookie-dough flicks. PUBLIC SCHOOLED is one of those.
How does this film compare to your other work? What are the similarities and differences?
Our first feature was an epic period drama about the godfather of cinema...this film couldn't be more different and that's the way we want it.
You produced, wrote, and starred in this film. What was that like?
It's a grind, it's a hustle, it can be incredibly stressful and all-consuming.
Can you describe PUBLIC SCHOOLED in three words?
Hilarious, intimate, and zingy!
---
PUBLIC SCHOOLED is playing at Globe Cinema tonight, September 22, at 7:30 PM, and director Kyle Rideout will be in attendance to answer any other burning questions you may have! If you miss it tonight, it will have a second screening this Sunday, September 24 at Eau Claire Cinema 2, 9:15 PM. Don't forget about our Fan of the Year competition, which will really start to get into full swing today and tomorrow, or about Calgary Film's 18th Birthday Party, going down on Saturday, September 23 at 9 PM at Paper St. See you all out there!
Back to blog listing