Posted on August 20, 2017
Programmer Profiles is a new blog series that brings you into the life of our esteemed programmers. Through this series you will gain insight into the lives of the hardworking people who spend their days hunting the latest and greatest film releases. They are our tastemakers and curatorial geniuses, and they all have a story to tell.
Our next profile brings you into the world of Programming Manager and Late Shows, Canadian & World Cinema Programmer Brenda Lieberman. Fully devoted to the world of film and the captain of our programming ship, Brenda centres her life on finding the best films to bring to the screen - allowing weekly lawn bowling forays to be her point of solace from the festival world.
--
Tell us a little about yourself.
My background is kind of a weird zig zag maze that lead me to this, so there is no way I can retrace it, but I have been working in the film industry in some capacity since 1995. I started working on film productions doing everything from Locations & Production Assistant (PA) to being a Stand-In, to Art Department, (working with both DGC and IATSE), as well as a ton of commercials. Somewhere in all that, I decided to take Arts & Cultural Management at Grant MacEwan College, which lead me to a programming position at the Calgary Society of Independent Filmmakers. It was that job that really changed my career, my focus, and my life. My first assignment was to program six Canadiafirst-time feature filmmakers, and screen their film at The Uptown Stage & Screen, along with filmmaker Q&As. I'll never forget that year, or those filmmakers, and it was from that moment I became hooked on programming, and hooked on Canadian cinema, and knew I had to do program films for the rest of my life. I decided to work on film productions until I could make programming a full-time career, which took a super-long time, but I've been programming in some capacity now for 18 years, and full-time since about 2009. I am currently the Programming Manager with the Calgary International Film Festival and Festival Director (co-founder) with the Calgary Underground Film Festival.
Name a film that changed your life and why it's important to you.
I have many films that changed my life in different ways, but in this case, I'll say THE ACID HOUSE, by director Paul McGuigan and written by Irvine Welsh. This was 1998 – the first year I went to TIFF as Industry - and this was the first film I watched, at 8 am, or something crazy like that. I was totally exhausted and it blew my mind. I think I was more like, what did I just see, and how in the world do I program this in Calgary? I knew when I got home that I had to find a way to start programming. And I did. Upon my return, I connected immediately with Pete Harris at the Plaza, and persistently worked my way into his world, gaining knowledge and mentorship support for years from that moment on… and he did screen ACID HOUSE that year.
Working in the arts is a labour of love. What makes it all worth it?
It's my passion and I couldn't imagine not doing what I love. Everyone I work with in this industry, worldwide, works crazy hard, is crazy passionate, and if you are doing what you love, it doesn't feel like work. It just becomes intertwined, and you don't know anything different. When I see something I connect with, or excitedly want to program something I know the audience wants to see, or I get to program a film I am passionate about for whatever the reason, to an audience who is looking for something to experience, or meet the creators behind these films, and form this everlasting friendship, and to see or hear the reaction from the audience, it makes it all so incredibly worth it – sometimes you get goose bumps, or emotional. It's the best. I've also made the greatest friends in this industry, from all over the world. I couldn't imagine not being a part of this community, or being apart of each other's lives.
What do you do when you're not watching movies?
HAHAHAHA hmmmm no clue. I feel like I'm always watching movies. Summer is my only real hobby where I lawn bowl on Wednesdays. Otherwise, no clue. Even my trips are to film festivals. I really need to think of something….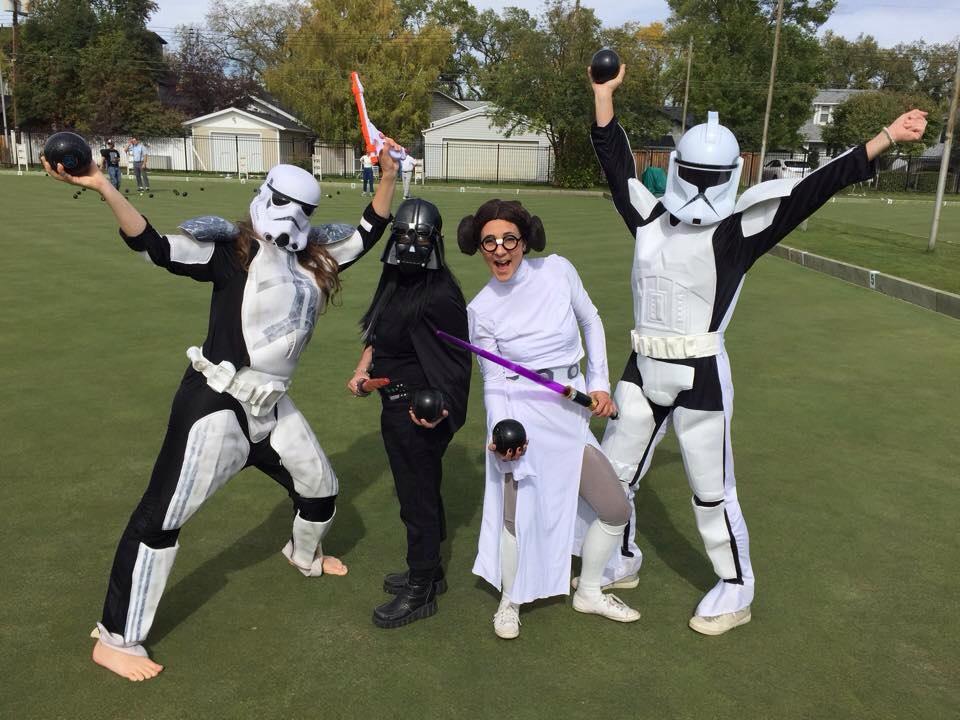 There are so many movies! What goes into building the festival schedule?
Building the schedule is one of the toughest parts! We work with a lot parameters… everything from print traffic with other festivals, when filmmakers can attend, balancing theatre size, estimated attendance, demographic, tone (trying not to book two films similar in the same time slot), not having two films start at the same time, dump times between films, not having theatres open too early or open too late. It's a lot. It's hard to make everyone happy, but in the end, we try to make sure everyone has at least one really solid time slot, and you always hope and cross your fingers and toes that the audiences come out, support these films, and the filmmakers have the greatest experience they can.
What's your number one piece of advice for filmmakers trying to get into the festival? What makes a film stand out?
There is no easy answer to this. Every programmer and every festival have different tastes. I look for films I connect with, or grab me in different ways. You have to cast a wide net, submit to lots, and make sure you are submitting to festivals that suit your film. Just because you don't get into one, doesn't mean the next programmer, at another festival, doesn't have the perfect spot for you or connects with your film. Apply on time or before the deadline. Early deadlines are there for a reason. We start programming months and months before a deadline, so it's good to be early. If you wait too late we could have fewer spots available. Additionally, be prepared. Rough cuts/work in progress can be really tough to program (not just for us, but any programmer), and in some cases, waiting until the next festival circuit when you've had more time to complete your film could be beneficial. In the end – I hate to say this, but sadly we always turn down films we really do wish we had room for. It's really difficult to narrow down.
How many films do you watch each year (or per day) to select your lineup?
I never count films any more and I find it kind of changes now too as I try and watch more and more at film festivals with audiences. It also depends on the series, for how many I need to watch, but I probably watch anywhere from one to five screeners a day when programming season is in high gear.
What's your film-watching routine?
I watch on my computer and TV, through Vimeo links. I have this set up with my Apple TV, where I pre-select everything I want to see in Vimeo, add to "watch later", then cue up my Apple TV, and it's like a Netflix of screeners. I can choose from anything, whatever my mood. I got this idea years ago from another programmer, and it's been amazing. I used to stay up way later, but now I fall asleep if not careful. So I'm more likely to watch some in the early morning, or early evening. I think my favourite snack is grapes or adding a mix of cayenne and cinnamon to homemade popcorn ☺
Any hints on what we can expect from your programming selections at this year's fest?
Every year it feels great to discover new, first time and emerging filmmakers, or see what creativity comes from our alumni. We screen a lot from submissions for Canadian Cinema, and even lots from the Late Shows this year too. I was surprised by how many films this year are genre films, which I have a soft spot for. You'll see crime, thrillers, horror, sex comedies, quirky relationship dramas, family relationships, small town stories… kind of a mix of everything. It's just super cool to see and explore where filmmakers are starting, and then skip ahead and see where they've come, after following their careers.
What's your advice for aspiring programmers?
It feels the same with programming as anything, you really have to be passionate, be persistent, willing to learn, and sadly work your way up. Like anything. There are so few jobs in programming, and it's hard to get in, but find someone (or a festival) you can help or program with, and the more your skills, and tastes develop with what works for an audience, the more you'll likely get to program. Programming is a fine balance where you are mixing between 'what you want to see on screen', and 'what you know (or think you know) the audience wants to see on screen', and trying to figure out who the films are for. It's also like any industry in that you really have to learn and immerse yourself in it, to stay on top of what is current or happening around you. Like music, or whatever.
You programmed our Closing Gala film, SUCK IT UP. With a long-list of Alberta connections - both behind and in front of the camera - how do you think the film will connect with Calgary audiences?
This film is perfect as this year's Closing Gala. Outside of the different Alberta related elements we look for or find in a film (production, funding, cast & crew), it's very rare to come across a film which uses or refers to the Canadian location, as it's true location. There is no doubt SUCK IT UP will resonate differently with our audience because of this, as you'll get a sense of nostalgia or connection in ways you don't normally in film. Aside from Calgary being Calgary, Invermere is a popular destination for locals to travel to. The story is also one that I really feel will work well for our demographic who comes out to the gala and the festival. It's really well written, acted and produced, and we look forward to seeing how well it does for the festival.
--
Pick up your tickets to the Closing Gala SUCK IT UP, programmed by Brenda. Her selections for the Late Shows Series and some of her most anticipated films of the festival are now live. The full lineup of films in the Canadian and World Cinema Series will be announced on Wednesday, August 30.
Back to blog listing